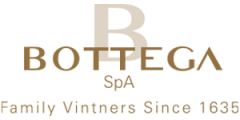 Are you looking for the finest grappa? Then come to our ZEGG stores ZEGG 3000, ZEGG Duty Free Arcada or ZEGG Duty Free Laret in Samnaun and discover the wonderfully pure, highly aromatic and elegant grappa from Bottega.
Bottega has a history of four centuries in the world of wine and grappa. Since the 17th century, when the ancestors cultivated the vine as tenants, Bottega grappa and liqueurs were valued around the world.
From the vineyard to the bottle, every moment of product creation is monitored with care and attention to detail. Bottega chooses simple, natural flavors associated with the territory.
Recipes with innovative, original elements make Bottega wines and liqueurs exclusive. An expression of excellence, the design enhances the creativity and style of "Made in Italy". Each bottle contains the taste and joy of the Italian lifestyle.