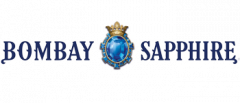 BOMBAY SAPPHIRE - world famous gin in its distinctive blue bottle.
Discover the Bombay Sapphire with its enticing, soft and complex flavor in our ZEGG ZEGG 3000, ZEGG Duty Free Laret stores and the Shopping Nevada shop in Samnaun.
Bombay Sapphire - The Worlds Most Famous Gin
Characteristic of the gin are ten "botanicals", namely lemon, almond, licorice, juniper, iris, angelica, cilantro, cinnamon cassia, kubeben pepper and grains of paradise, which weaken and complement the typical gin juniper taste, so that it tastes milder than typical London Dry Gins. The aromatization of the trihydric alcohol is carried out by means of a steam infusion process, i. H. The herbs hang in a copper basket over the alcohol, whose vapor absorbs the aromas. The later added water should come from Lake Vyrnwy in Wales. Uniquely distilled, they come together to give Bombay Sapphire its alluring, smooth and complex taste.