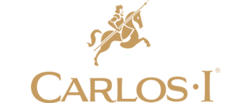 Discover in our ZEGG shops ZEGG 3000, ZEGG Duty Free Arcade, ZEGG Duty Free Laret and in the Super Discount Nevada in Samnaun the distinctive, aromatic Brandy Gran Reserva of the brand Carlos I.
CARLOS I - ARE YOU READY?
Traditional craftsmanship combined with in-depth expertise. That's what characterizes Carlos I. The result is a multi-faceted and charismatic brandy with a particularly fine and complex spectrum of flavors.
In front of the eye unfolds a rich amber tone, which sparkles golden depending on the light. The smell is intense aromatic with distinctive vanilla and cocoa notes. In taste, the Carlos I is full-bodied, balanced and complex on the tongue.
A distinctive Brandy Gran Reserva.