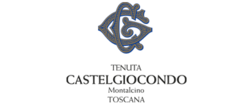 Discover the rarely gentle, balanced grappa from Castelgiocondo Montalcino in the duty-free paradise in Samnaun at ZEGG 3000.
The village of Castelgiocondo overlooks the historic estate of Frescobaldi in Montalcino, an ancient fortress built in 1100 to defend the road that led from the sea to Siena. A historical place, it is indeed one of the first four objects in which 1800 began the production of Brunello di Montalcino. The winery is located in an ideal terroir for the Sangiovese and for the great wines that are produced here.
The grappa has a clear color. It offers delicate, full and lasting fragrances to the nose. The taste is decided, harmonious and well balanced; in the mouth there is a sensation of velvety softness.
Ideal at the end of the meal, elegantly accompanied by a bitter chocolate.