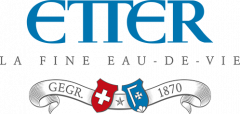 Take your time for the beautiful things in life and treat yourself to enjoyable moments with the high-quality products of the Swiss family company ETTER.
You will receive extensive advice in our ZEGG stores in Samnaun Engadin.
ETTER - a tradition-conscious Swiss family company that produces and sells high-quality fruit brandies with passion. Etter focuses on the essentials and puts a lot of love and passion into the details. And just as much enthusiasm and care in the production and maturation of the fruit brandies. The product only receives its seal of approval once all requirements have been met and all quality controls have been passed through in-house. Simply a name: Etter.