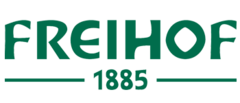 Are you also a free spirit? Then come to our ZEGG stores ZEGG 3000, ZEGG Duty Free Arcada or ZEGG Duty Free Laret in Samnaun and discover the distinctive taste of 1885 Freihof.
As early as 1885, the Freihof in Lustenau was a popular meeting place for gourmets and free spirits. The resulting Freihof distillery of the Hämmerle family has since dedicated itself to producing exquisite fruit brandy and schnapps classics as well as fine liqueur and spirits specialties.
The FREIHOF 1885 classics stand for unmistakable taste and an uncompromising passion that has been burning steadily for decades. Each of the crystal-clear treasures contains the timeless quintessence of pure natural resources, high artisan craftsmanship and valuable history.