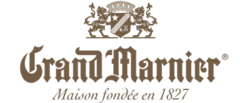 The history of Grand Marnier began about two centuries ago in 1827 - when Jean Baptiste Lapostolle had the original distillery built in Neauphle-le-Château, a small town outside Paris, which quickly gained an exceptional reputation for high quality fruity liqueurs ,

Grand Marnier is a brand of international renown, part of a centuries-old tradition of great liquors.
Enchanting topaz color with golden and amber reflections.
Complex scent of orange blossom, candied lemon zest and caramelized sugar. In the mouth it surprises with its aroma of ginger, orange marmalade and hazelnut.
The finish is long and harmonious.