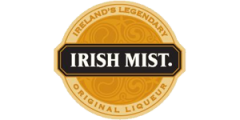 The Irish Mist liqueur is often traded as an Irish legend. This is understandable, since it is more or less unique around the world and has received several awards at international competitions.
Are you curious now? Then come to our ZEGG stores ZEGG 3000, ZEGG Duty Free Laret and Shopping Nevada in Samnaun and discover this unique, full-bodied whiskey liqueur.
The Irish Mist is a legendary Irish whiskey liqueur, well known far beyond the borders of Ireland, made from selected, fine distillates, which is produced according to a centuries-old recipe.
The flavors in Irish Mist Liqueur are whiskey, heather, honey and herbs. As a result, it can be enjoyed smooth with ice or combined with many other ingredients like Coca Cola or Lemon.