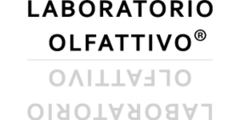 Are you ready to go on a wonderful fragrant journey? Then come to our Haute Parfumerie ARCADA in Samnaun and discover the passionate, exclusive fragrances of Laboratorio Olfattivo.
"Gods create smells, men make perfumes"
-Jean Giono-
Laboratorio Olfattivo's is the story of a 2009 project born from the passion of Daniela Caon and Roberto Drago for the world of artistic perfumery. A collection of 19 Eau de Parfum, including our black pearls Nerotic, Vanhera, Sacrei and the novelty Nerosa, which belong to the Laboratorio in Nero collection.
Olfactory Laboratory has chosen the concentration of Eau de Parfum as the ideal expression for its creations to appreciate the quality of fragrance formulas and raw materials. Because of their particular composition, they are thought of as "emotional experiences" to experience the sense of smell. The packaging is deliberately minimal, simple but refined, to give only the really important importance: the fragrance whose quality should never be overshadowed.