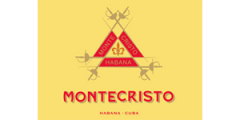 Discover the variety and aromatic cigars of the brand Montecristo in our ZEGG stores ZEGG Duty Free Arcada and ZEGG 3000 in Samnaun.
The Montecristo was founded in 1935 by the Menéndez and García families and is next to Cohiba one of the best known and at the same time one of the best selling Habanos brand. The medium-strong cigars are among the most popular smokers as well as novices.
The tobacco consists of selected leaves from the Vuelta Abajo region in southwestern Cuba, which is considered one of the best quality tobacco production areas in the world.
The popularity of Montecristo is certainly due to its blend of tobacco. The special taste comes from the fact that the Ligero leaves are kept in a special kind of cedar wood. In addition, a unique method is used to form the insert developed by cigar-maker José Manuel Gonzales, nicknamed "Mansinguilla" for his artistry. The cigars are made in the factories José Marti, Laguita and Partagas.
The Montecristos have a typical dark, slightly oily cover sheet. With their aroma-rich taste they are a bit milder than Cohibas.