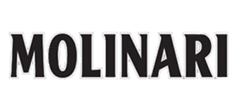 MOLINARI SAMBUCA: discover the great classic that never goes out of style in our ZEGG stores in Samnaun.
MOLINARI Sambuca was founded in 1945 by Angelo Molinari in Civitavecchia, Italy.
A sweet, strong and fragrant liqueur. A base of highly regarded star aniseed, sugar, herbs and spices are the ingredients of a 100% Italian and eagerly guarded recipe.