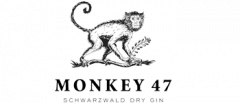 Discover the Monkey 47 from the Black Forest in our ZEGG Stores ZEGG 3000, ZEGG Duty Free Arcada and ZEGG Duty Free Laret in Samnaun.

Monkey 47 is a Dry Gin brand from the Black Forest, referred to as "Black Forest Dry Gin".
One third of the ingredients of this dry gin come from the Black Forest. The Monkey 47 matures there for three months in earthenware vessels and is then lowered with its own spring water to drinking strength. Due to the coarse filtration and the absence of the usual cold treatment the gin many flavors are preserved.
Harmonious gin with a clear juniper aroma, fresh citrus note, light pepper aroma and subtle bitter fruit notes: British tradition, exotic spices and Black Forest ingredients are combined.