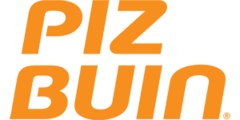 Also in Samnaun the sun is very intense, so we offer optimal sun protection. PIZ BUIN sunscreen protects against solar radiation in extreme conditions.
PIZ BUIN is available in our ZEGG stores: ZEGG 3000, ZEGG Duty Free Laret and in the Super Discount Nevada in Samnaun.
For over 70 years, PIZ BUIN ® has been offering sun-shading solutions to sun-lovers everywhere, allowing them to achieve the perfect balance between a beautiful tan and the required protection. Indeed, PIZ BUIN® was one of the first to make tanning safer with the introduction of the Sun Protection Factor (SPF) system in the 1960s. Wherever the sun is, whether on the beach, on a mountain or in the city, PIZ BUIN ® has helped people safely enjoy life in the sun.