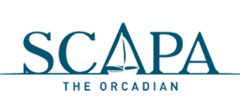 Discover the unique whiskey from Scapa in our ZEGG stores ZEGG 3000, ZEGG Duty Free Laret and ZEGG Duty Free Laret in Samnaun.
The Scapa distillery, one of the northernmost distilleries in Scotland, is located on the largest of the Orkney Islands, in the Scapa Flow sea basin. Fascinated by the harsh climate and the legendary cult sites of the Druids and the Vikings, Townsend and Macfarlane chose the isolated Orkney Islands in the north of Scotland in 1884 to distill the Scapa whiskey.
The water of the distillery belonging to the Highlands / Islands region comes from the Lingro Burn and - in contrast to the malt used - is very peaty. The distillery has a mash tun and six fermentation tanks. Distillation takes place in a converted Lomond wash still and a spirit still. Only old bourbon barrels are used for storage.