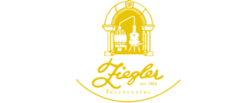 Ziegler noble distillates. Discover the handpicked fruit brandies in our ZEGG stores ZEGG 3000, ZEGG Duty Free Arcada and in the ZEGG Duty Free Laret.
The Edelobstbrennerei Gebr. J. & M. Ziegler GmbH, founded in 1865 in Freudenberg am Main, stands for distillation art at the highest level. Ziegler still produces today on the original site in Freudenberg in Baden-Württemberg, amidst the idyllic landscape on the Mainschleife near Miltenberg.
Then as now, the distillery is run with great dedication and wit. The view goes into the future without forgetting the traditional values. Since time immemorial, the production of fine distillates has been done by hand. From the fruit harvest to the labeling of the bottles - Ziegler still lends a hand. The Edelbrustbrennerei Gebr. J. & M. Ziegler GmbH, as a manufacturer with a special quality claim, has managed to become one of the leading distilleries in Germany.