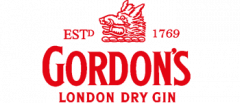 Discover the most sold gin in the world at our ZEGG stores in Samnaun: Gordons Gin.

The Scot Alexander Gordon founded his distillery in 1769, originally in London's Southwark. The distillery moved in 1786 to Clerkenwell in the Goswell Road, where it is located today.
The Nosing shows immediately an intense juniper note, followed by clear citrus notes. Also, in the smell of the slightly spicy coriander can be roasted, which produces a slightly unpleasant note with bitter alcohol.
The tasting underlines the scented notes, juniper and citrus fruits also dominate the taste in the mouth. Other botanicals are barely noticeable against the juniper, so the gin seems quite simple. Unpleasant traces of alcohol are not recognizable.
The finish is quite long and dry. Notes of junipers and citrus fruits remain in the mouth.