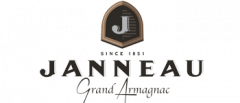 Discover the unique Armagnac collection in our ZEGG Stores ZEGG 3000, ZEGG Duty Free Arcada and ZEGG Duty Free Laret in Samnaun Engadin.
MAISON JANNEAU IS ONE OF THE OLDEST OF THE LARGE ARMAGNAC HOUSES.
Founded by Pierre Etienne Janneau in 1861 in Condom in Armagnac, four generations of the Janneau family followed, passing on the mystery of Grand Armagnac from father to son. Maison Janneau is one of the main producers of the distillation, maturation and bottling of its production entirely in the region of origin AOC Armagnac.
The freshly distilled, transparent and crystalline alcohol is immediately aged in 450-liter oak barrels from the surrounding forests of Limousin and Monlezun. Each barrel has different characteristics and gives the liquid, depending on the type of oak used, its different tannins and woody aromas. It takes a few more years for the spirit to regain its typical amber color and subtle tannin aromas. Maturing takes place in the old cellars, built in 1851, where approximately 10% of the entire Armagnac stock of the region rests and ages in complete silence.