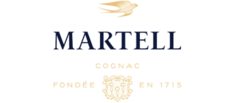 Looking for a true noble drop? Then try the Martell Cognac.
Available in our ZEGG stores in Samnaun Engadin.
Founded in 1715 on the banks of the Charente, a historic French river in the Cognac region, by Jean Martell, a young and experienced wine merchant, Maison Martell celebrated in 2015 its 300-year history from generation to generation of traditional family traditions.
Martell is known around the world and is valued not only in France and Europe, but also in the US, Australia, Japan and Russia. For more than 300 years, Martell has expressed his passion for excellence and traditional craftsmanship.
Since its inception, Martell has been characterized by the elegance and finesse of its prestigious cognacs, with distinctive floral aromas, slightly spicy notes and a soft and enveloping body.